Automatic awakening
---
NPC helpers now have special stones for a new crafting recipe on sale.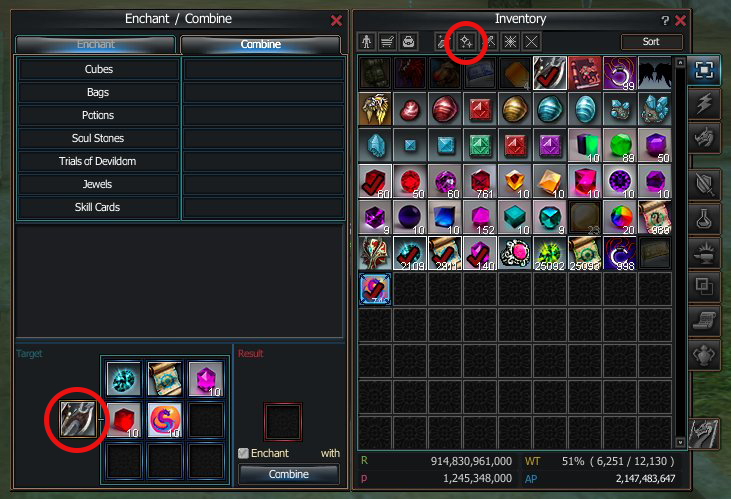 Be sure to use combine!
In the main slot put the item that you will awaken.
Next, use: Awakening Stone and Sealing Scroll in additional slots.
Add "Charm Catalyst: Automation" (sold in a shop store)
Add Awakening Enhancement Stones (sold by an assistant in any city)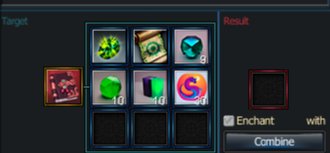 Use the right combination of the Awakening Stone and the Sealing Scroll!
Automatic аwakening stops in a number of cases:
The "Awakening Stone" has ended
The "Sealing Scroll" has ended
The "Charm Catalyst: Automation" has ended
Attempts ended
If your character moves
Awakening target reached
Examples of recipes
Рецепт
Результат

The Item of awakening
Awakening Stone
Sealing Scroll
Awakening Enhancement Stone: Strength (20 pieces)
Charm Catalyst: Automation

An awakened item that has the minimum amount of the "Strength" characteristic will be +20

The Item of awakening
Awakening Stone
Sealing Scroll
Awakening Enhancement Stone: Strength (50 pieces)
Awakening Enhancement Stone: P.Attack (100 pieces)
Charm Catalyst: Automation

An awakened item whose minimum amount of the characteristic "Strength" will be +50" OR "minimum amount of the characteristic " Phys. Attack" +100

The Item of awakening
Awakening Stone
Sealing Scroll
Awakening Enhancement Stone: Attack Speed (20 pieces)
Awakening Enhancement Stone: Energy (30 pieces)
Awakening Enhancement Stone: All Together
Charm Catalyst: Automation

An awakened item that has the minimum amount of the "attack speed" characteristic will be +20" And "the minimum amount of the "Energy" characteristic +30